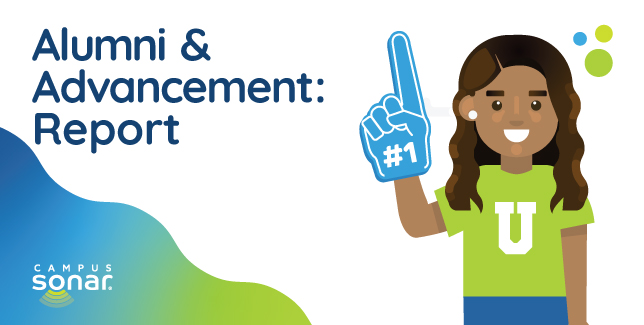 Recent trends show a decline in individual giving and campuses are shifting tactics in response. Many alumni teams are deploying new technology built to foster connections within an alumni network, others are designing campaigns to attract first-time donors, and some are starting even earlier—developing student philanthropy efforts to create a culture of giving back. Whatever the approach, there's a shared challenge to attract and retain alumni attention.
And the pandemic has made this challenge significantly harder. People are experiencing health concerns, job loss, and financial woes; alumni are no exception. In this report, we examine six months of conversation from the latter half of 2020 in which we observe first- person accounts of alumni lives.
What This Report Gives You
The Social Listening for Alumni Insights: June 2021 report is the first report in our alumni and advancement series, helping you understand and nurture your relationship with your alumni. To help you foster connections, we provide metrics for:
Conversation Behavior breaks the online conversation down by volume, sentiment, content sources, and mention type so you can identify and engage with your alumni.
Years Since Graduating considers the differences in your alumni audience's stage of life, breaking it down into two groups: new alumni (graduated <5 years) and other alumni (graduated >5 years).
Questions to consider guide your thinking about the data's relevance to your campus and actionable ways you might respond to the data and impact key outcomes.