Key takeaways from a closer look at the relationship between the two biggest conversation sources.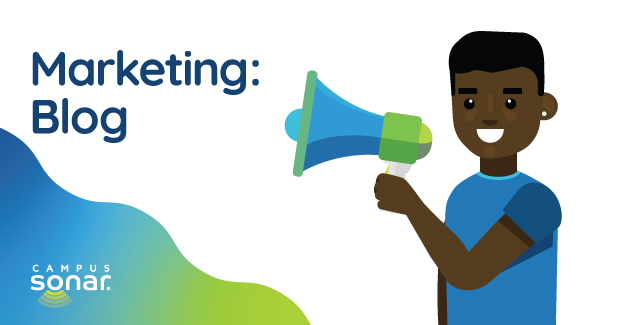 As we explored data for the Social Listening Benchmarks for Higher Education: January 2021 report, we found additional research questions we wanted to pursue (big surprise, we know). One aspect we wanted to dig into is the correlation between social media and news. These are the two largest conversation sources, but how do they relate to and influence each other?
Where We Started
First, let's refresh our memory. In the report, we categorized and defined six conversation sources, including the two we're most interested in for this post.
Social Media: Includes social media sites like Twitter, YouTube, and Instagram.
News: Includes sites labeled or promoted as news sources.
And on average, here's what our analysis found.
Overall Conversation: Social media sites comprised 73% of mentions, followed by news at 18%.
Non-athletic Conversation: Social media conversation comprised 65% of mentions, with news at 22%.
Earned mentions emerged more on social media than in the news, meaning people talk about campuses more on social media than in the news. Understanding these types of key differences across the channels helps you develop effective and multifaceted communications strategies, rather than a one-size-fits-all approach.
Knowing the full range helps you understand where your campus's conversation falls for these two content sources.
The middle of earned social mentions ranged from 32% to 49%, with the median at 39%.
The middle of earned news mentions was between 8% and 22%, with the median at 12%.
Your online conversation is normal if it aligns with these ranges of earned social media and news (as a proportion of your total earned conversation).
Takeaways
Earned social media conversations typically represent a significant volume of mentions, so it's critical to monitor and treat them with the same care as news mentions. To do this:
Create, amplify, and share positive and important mentions or topics on social media.
Determine a course of action or response for more negative mentions.
To increase the volume of news mentions and potentially engage a different audience:
Reach out to news outlets to cover campus activities.
Repurpose positive news mentions on owned channels when possible.
Digging Deeper
Social Media and News Sites Are Symbiotic
We also found a relationship between the volume of earned mentions from social media and the volume of earned mentions from news sites. Specifically, when there were spikes in news mentions, they appeared to coincide with spikes in social media mentions. And topics occurring in the news tended to show up on social media.
In some cases, spikes in the median of earned social media mentions per month coincided with increases in the median of earned news mentions for the same month. For example, in January and March there were spikes in earned social media mentions and smaller spikes in earned news mentions, along with some overlap in topics across the sources.
Takeaways
If a significant event (positive or negative), involves your campus, assume what's reported in the news will appear on social media or vice versa and prepare statements to ensure consistency and transparency across content channels.
You may not have control over the news messaging, but you do with social media—it offers a forum for your own narrative about the event. If it's positive, take the opportunity to amplify the news and tailor it for your audiences. If it's negative, decide if and how to address it, such as with a statement from leadership or a resolution plan.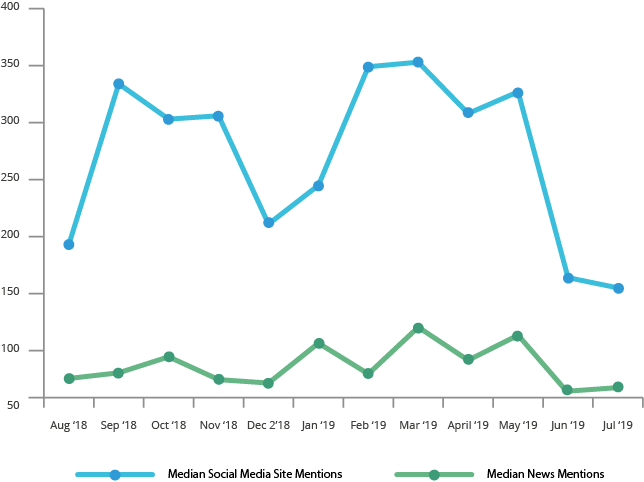 Line graph depicting the median value each month for earned news and social media mentions in our sample.
Similarities in Topics Means Predictability … and Opportunity
Another key finding is that similar topics of conversation (i.e., politics, current events, athletics, and academics) emerged on earned mentions from social media and news sites.
Earned Social Media Mentions
Top phrases related to athletics, politics, or other current events. For example, athletics-related mentions involved students receiving an offer, specific college athletic teams, athletic conference divisions, coaches, or specific players. Mentions of current events and politics (e.g., President Trump, the White House, Larry Nassar, etc.) were also central. A closer look at hashtags on sites like Twitter tell a similar story, with a focus on athletics, academics, and current events and politics.
Earned News Mentions
Topics in earned news mentions mirrored those from social media and focused heavily on current events, especially on Donald Trump and other politicians, Larry Nassar, and other topics such as athletics and academics. Academics tended to take a backseat to more public events that likely drew on strong emotions, such as current events involving campuses and athletics.
Takeaways
With evidence that earned social media topics mirror news topics (and vice versa), keep an eye out for ways to promote campus events that exemplify and amplify your positive messaging and brand attributes. Consider repurposing or realigning athletics content in support of brand messaging. On the flip side, prepare to weather and respond to more negative topics, such as current events or political issues, that surface in your news and social media. A negative news story may spark negative social media conversation, and negative social media conversation can be an early warning of a campus crisis. Regardless of the structure of your communications team, it's important to keep lines of communication open between social media and media relations teammates.
Expect Sentiment to Fluctuate with Key Events
Analyzing your campus's online conversation sentiment over time helps you better understand what messages and topics resonate with your audience. We discovered two key patterns.
Earned social media mentions are generally more positive than earned news site mentions, which tend to be more neutral and more negative. This insight sets expectations for your campus's earned conversation sentiment on these sites.
Social media mentions are more likely to experience spikes in the proportion of positive and negative mentions during the year, in relation to key events. This helps you prepare for and anticipate that key campus events will likely impact sentiment on these earned social media and news sites.
Sentiment Breakdowns for Earned Social Media Mentions
For earned social media mentions, the medians were 30% for positive sentiment, 3% for negative mentions, and 65% for neutral mentions. If your sentiment falls around these percentages, you're in alignment with the benchmarks.
You can expect that most earned social media content will be neutral. When it deviates, it will likely be more (sometimes significantly more) positive than negative content. The following months had a higher proportion of positive social media mentions.
March 2019: Analysis suggests the primary driver was March Madness.
January 2019: A spike in both positive and negative mentions was primarily related to a Division I football team.
May 2019: Elevated positive mentions were due to athletics Hall of Fame inductions and offer/commitment announcements.
June and July 2019: Offer and commitment announcements (along with a few other topics related to athletics) raised the proportion of positive mentions.
Sentiment Breakdowns for Earned News Site Mentions
The breakdown of sentiment on news sources looks very different from social media mentions. The medians were 9% for positive mentions (21% lower than social media site mentions) and 78% for negative mentions. If your sentiment falls around these percentages, you're in alignment with the benchmarks.
Unlike social networking site mentions, there don't appear to be any obvious spikes in the proportion of positive or negative news mentions during the observed period. You can expect that while news stories about your campus may be more objective, you'll be able to gauge how your audiences feel about those stories on social media.
Key Takeaways
Overall, social media represented an important aspect of earned conversation as it generated more mentions for campuses than news, although spikes in conversation volume for both sometimes coincided. This suggests a relationship between topics across sources that's supported by how central athletics, academics, current events, and politics are to both sources.
Given the prevalence of earned conversations occurring on social media and their tendency to skew more positive than news mentions, carefully curate social media messages and share opportunities to continue positive conversation and increase engagement. Mentions of athletics and announcements of offers and commitments increased the proportion of positive social media mentions in March and summer months, so consider how to leverage those opportunities. Finally, look for opportunities to engage with media outlets, especially local outlets, to tell the positive and inspiring stories of your campus, your students, and your faculty.
Consider These Questions for Your Campus
Does your communications strategy take into account the differences between social media and news?
Are the lines of communication clear and open between your media relations and social media teammates?
Have you thought through a process for escalating potentially problematic stories as they arise in either space?