Unique characteristics from the 2-year admissions conversation informs tailored recruiting strategies.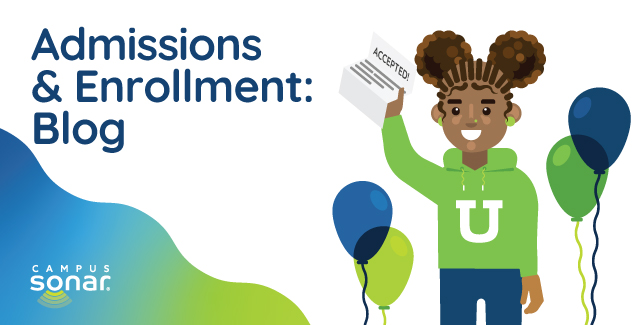 The Social Listening for Admissions Insights: February 2021 report focused on prospective and admitted student and parent admissions conversation for 4-year colleges and universities from August 1, 2020 through October 31, 2020. We also wanted to analyze that same conversation for 2-year institutions to see what unique characteristics emerged. While there are many overlapping trends, our findings may inform tailored recruiting strategies and messaging for this specific audience.
Conversation Volume & Sources
The overall 2-year admissions conversation volume for prospective and admitted students was far lower than that for 4-year programs.
4-year students were far more likely—59 times more—to talk about their experiences online than 2-year students.
4-year conversation made up over 98% of prospective and admitted student conversation.
Despite this disparity, several trends remained consistent between the two audiences.
Admitted students talked about college admissions roughly three times more than prospective students, whether they were considering 2- or 4-year programs.
A look at where 2-year college admissions conversation occurs aligns with trends in admissions conversation for 4-year colleges.
2-year admitted students share primarily on Twitter—in fact, this is where we observed 99% of their conversation.
Admitted students share more often on Twitter than prospective students.
2-year prospective students favor social media above other platforms, sharing around 55% of their conversation on Twitter.
However they additionally participate in forum conversation more often than admitted students, with roughly 45% of their conversation on Reddit and College Confidential.
When we look at 2-year admissions parent conversation, parents contributed minimally regardless of whether their child was a prospective or admitted student, approximately 1% of all 2-year admissions conversation. The volume of 4-year admissions conversation from parents was much higher, but still only represented 2% of total 4-year admissions conversation. Within 4-year admissions parent conversation, 59% of mentions came from parents of prospective students, and 41% from those of admitted students.
Sentiment
When comparing sentiment between 2-year and 4-year students, we uncover one significant difference at the prospective stage of the admissions process. Prospective students applying to 2-year colleges expressed negative sentiment in 42% of their conversation, compared to only 22% of 4-year applicants. Once they've been accepted, the numbers more closely align regardless of whether they're pursuing a 2- or 4-year degree.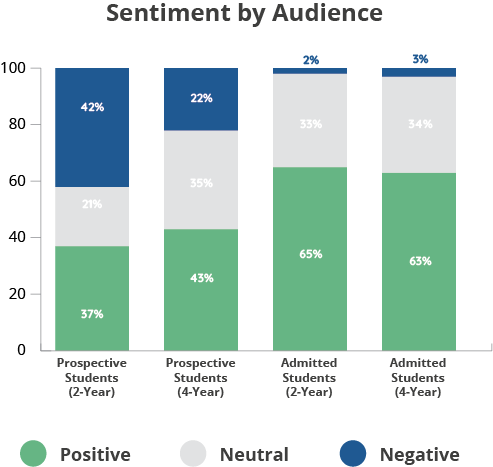 Topics
We get a better understanding of the trends in sentiment in 2-year student conversation when we look at the topics within their conversation.
Positivity among 2-year students is driven by athletics for admitted students who are excited to continue their athletics career. Prospective students want to go to college, or have a specific purpose or skill they're looking to acquire, but the stressors of time and money are consistent factors in their conversation. Negative conversation from 2-year prospective students is driven by financial concerns, school loans, working, uncertainty about fields of study. The undercurrent is an element of risk: If I do this, will it be worth it?
4-year admitted students align with 2-year students on the positivity and excitement surrounding athletics.
4-year prospective students also focus on whether they'll be accepted into the programs of choice. In their topics, keywords like GPA, AP, and ACT appear with some frequency.
Generally it appears that 2-year students talk about the programs they're considering as a means to an end—that is, they're looking for skill acquisition for a specific career path or eventual admission to a 4 year program. For 4-year students, achieving admission into the program of their choice is the goal they discuss publicly.
2-Year Prospective and Admitted Student Conversation: Top Keywords by Sentiment
4-Year Prospective and Admitted Student Conversation: Top Keywords by Sentiment
Athletics
Athletics is one significant area of alignment between 2- and 4-year students. Specifically, athletics stands out as a driver of positive conversation among admitted students regardless of whether they plan to attend a 2- or 4-year program.
71% of 2-year student conversation was athletics related, falling in close alignment with 4-year student conversation.
Of the 2-year athletics-related conversation, 97% came from admitted students, many of whom shared their enthusiasm to join a specific team.
As with 4-year conversation, a number of phrases and themes repeat, like blessed to receive an offer, excited to announce, or continuing my academic and athletic career as well as mentions of coaches or athletic staff.
Athletics presents a significant opportunity for both 2- and 4- year campuses to build on student-athlete enthusiasm to develop additional positive conversation around the student experience, academic strengths and outcomes, and campus brand values.
Considerations
2-year students may not share their college journey to the same degree as their 4-year peers, but the conversation is not inconsequential. Further, these students have some unique concerns and motivations that campuses should consider in their messaging and engagement. Think about recruiting strategies that:
Provide clear guidance and resources through the admissions journey, including support for completing the financial aid process.
Focus on the outcomes of the investment. Data on career outcomes and alumni success stories may resonate with this audience, who need to know this is a worthwhile risk.
Amplify the positivity athletics and student athletes bring to the conversation. Let their enthusiasm shine a light on your campus brand.