Engage with students one mention at a time to make the most of yield season.
by Rebecca Stapley, Marketing Manager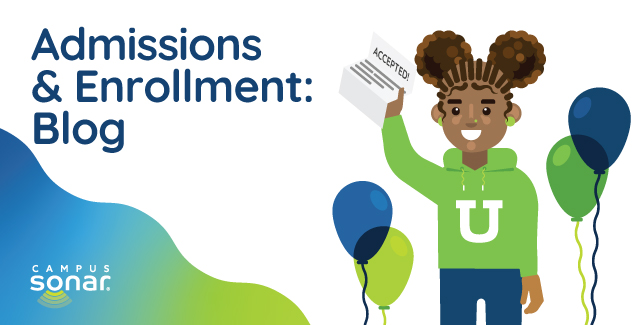 In Social Listening for Admissions Insights: February 2021, we share analysis from an unusual and difficult year. The pandemic exacerbated many underlying issues in higher ed and quickly brought them to the forefront. Looking back on conversation topics and trends, there are lessons and insights you can use moving forward to make the most of yield season and build a robust incoming class.
Pay Attention to Your Conversation
Listen and speak to the logistical and emotional needs of admitted students online as they go through the admissions process. The visibility of Twitter mentions—especially those that tag your campus—give you the chance to start meaningful relationships with new students before they step foot on campus (virtually or physically). Develop and adapt your content to fit time-specific phases of the admissions journey (application, yield, etc.).
Admitted students are active on Twitter, which offers broad opportunities to engage with admissions audiences already present and active there, while welcoming them to your online communities. Amplify their content via retweets or quote tweets, liking posts, or leaving comments.
Consider the financial stage of the yield cycle. Look at the conversations you see around finances and paying for college.

Think about who is best positioned to tell your campus story from a perspective of value. How can you capture and share their voices with your admissions audiences?
Can your content educate your audience about the financial aspects of the admissions process while growing general awareness?
Where does financial aid and student support content live on your website? Is it accessible and easy to understand? Consider adapting key information and messaging for social media at critical times in the admissions cycle.
Build Community
Be a connector for your accepted students and campus body at a time when they crave it the most. It's not enough to create an online group for accepted students; think about how to maintain and sustain safe spaces for questions, concerns, and celebration as students make their decisions.
Highlight your digital community and campus identity across each social media platform. Provide opportunities for admitted and current students to connect with one another, and your campus, online.
Support the humans involved in responding to admissions questions, creating content, and building your digital community and give them adequate resources and training. Make sure they're representative of your admissions audience and provide them access to current students for peer-to-peer connection.
Think about the added value and recognition your admissions audiences receive on social media. Do they feel the love, or is the conversation one-sided as they share concerns and milestones about your campus with their followers?
Be Aware of Blind Spots
Let the questions students ask in their social posts shine a light on blind spots you may have in your admissions communications.
Refine and redistribute evergreen content as engaging social content that speaks to pain points, or lapses in information related to the admissions process.
Make sure your admissions goals, brand messaging, and content align and are worth your audience's attention. With each, post ask:

Is this visually interesting and appealing? Does it provide enough context to instantly connect the image to my campus?
Will the first three seconds of this content compel my audience to pause their scrolling and pay attention? Is it worthy of their attention?
Is it accessible? Are the specs correct for this platform? Is alt text included and/or is appropriate visual contrast present when text is layered with imagery?

While social conversation should inform the gaps in information, think outside of social, when addressing those gaps.

Is your website easy to navigate, and is critical information easy to find?
When students can't find what they're looking for, is contact information readily available?
Where else is information about your campus and programs available? Is it up-to-date and accurate?
Speak to Concerns
When accepted students share their vulnerability and uncertainty, let them be heard and answered. It's not enough to acknowledge that these concerns exist—anticipate them and prepare proactive and thoughtful communications to ease their anxieties and fears.
Admitted students expressed anxiety about their next step. They talked about housing, such as the pros and cons of living on campus.
Think about and complete the following for each of your social platforms: My admissions audiences come for the [specific interest/engagement], but stay for the [value and community].
Acknowledge the admissions process from the eyes of your audience. Speak to pain points of your admissions process and share what resources to help your audience move through them.
Share external messaging that captures a spectrum of emotions involved in applying and selecting a school, not just the positive.
Allow individuals with firsthand experience an opportunity to share their knowledge and connect with empathy.
Capture Positivity
Make it easy for an accepted student to share their excitement. Get creative in your approach, and let your new class know that you're just as excited to welcome them to the campus community.
Admitted students flock to social media—especially Twitter—to celebrate successes. 99% of their total conversation emerged on social, and almost 100% of it was on Twitter. Students looking for a pithy way to publicly announce college acceptances or athletics offers to their online communities chose to display those in 280 characters on Twitter instead of on platforms designed for media sharing (e.g., Instagram or YouTube).
Offer a space for admitted students to share questions and milestones on social media. Make sure it's easy to find your primary account handles and that your digital and print collateral align and support social media sharing.
An accepted student hashtag, class pendants, fun branded vinyl stickers, or a simple RT with a personalized comment are all ways to amplify and spread the word.
Pro tip: don't forget guidance counselors, parents, and pets—can your admitted student swag appeal to family members and supporters who are just as excited to share the good news?
Whether you implement a few of these ideas or the whole lot, you'll be on your way to creating meaningful relationships with your students. As we recently shared in our newsletter, the best thing you can do right now is excel at what's within your control. And right now you can do that one engagement at a time.