Understanding alumni giving behavior helps you nurture your relationship and increase campus giving.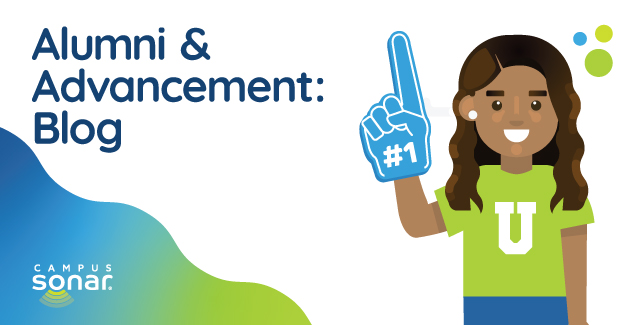 Nurturing relationships with your alumni is a key component to the future success of your campus. Proud alumni can share their experience with others to potentially sway an undecided student or can make a gift to help current and future students shine even brighter on campus.
Giving behavior is nuanced, part art and part science, and we sought to understand it more by examining mentions of alumni giving behavior. Within our dataset for the Social Listening for Alumni Insights: June 2021 report, we collected 277 mentions of alumni discussing giving or donating to their alma maters, with approximately 75% of these mentions occurring on social media.
Conversation Volume and Sentiment
Falling into alignment with year-end fundraising campaigns and Giving Tuesday efforts, December was the most prominent month for these conversations, with approximately 44% of giving mentions. In contrast, July was the least voluminous with only 7% of giving mentions.
Compared to other segments examined in the report, mentions about giving were the most positive. While there was a significant chunk of negative sentiment, some of this can be attributed to the unique circumstances of the pandemic; people were under greater financial strain than seen in prior years.
Driving the positive sentiment were individuals who remained willing to donate to their alma mater, like this alumnus from Providence College or the alumna from Berea College.
And those who specifically acknowledged that this was a time to offer additional support to campuses and their students.
Others were offended that they were still being solicited for donations in such a difficult time.
However, typical patterns still emerged as younger grads felt the typical financial burdens of post-grad life.
The Value of Listening
This highlights the value of listening to truly understand your alumni and segmenting by key characteristics to optimize your desired action. For example, people who previously spoke highly of or donated to your campus are more likely to do so again and might be more willing to share their appreciation even during a pandemic, while those who have never indicated a willingness to donate might be turned off by such a request. This is also an opportunity to develop a more personal relationship with your alumni and share resources and networking opportunities so your alumni feel the relationship is mutually beneficial instead of purely transactional.
Campus Takeaways
You can use this knowledge to your advantage and incorporate alumni segments into your campus's social listening routine. In tandem with forming deeper relationships with your alumni, having a specific call to action such as sharing a favorite on-campus memory or organization tied to their donation can be a powerful tool to demonstrate both the individual and aggregate impact of an alum's time on campus. Additionally, sharing these stories with other key segments such as enrollment audiences and current students can help these people visualize their future at your campus and beyond.
The biggest challenge of examining alumni giving behavior within our dataset was that so many giving days and mentions around donating are branded and unique to each campus. Analysts used an aggregate dataset of first person alumni mentions, which did not allow for a granular analysis of individual campuses. Since so many giving days and mentions around donating are branded and unique to each campus, social listening becomes even more powerful for your campus when focused on your branded accounts and messaging.