Explore some of the unintended consequences of NIL on campus fundraising.
by Katlin Swisher, Campus Sonar Senior Strategist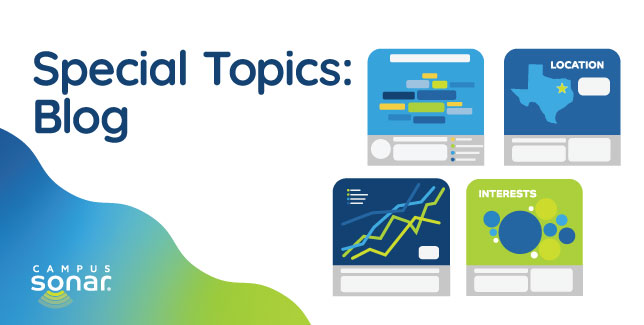 The advent of the NCAA's new Name, Image, Likeness (NIL) policy for college athletics has presented many unintended consequences for campuses.
One of those is boosterism and increased demands on donors, who now have a choice—continue their long-standing relationship with athletic departments, or support the players directly?
In response, private, third-party collectives with connections to numerous Power 5 campuses rapidly began appearing on the scene in late 2021 to proactively establish NIL resources for athletes.
Also called trusts, these organizations are often established by alumni and former athletes with support of the current athletes in mind. In our May 2022 report about NIL, we observed a large jump in conversation volume from November to December 2021 due, in part, to the rise of these organizations. Approximately 39 collectives are now active—including multiples for some campuses, like in Florida and Texas.
Collectives act as liaisons to get NIL profits directly to players. They forge partnerships with businesses; coordinate player engagements; and provide professional development, training, and other resources to athletes to help them frame their individual brands and navigate business opportunities.
What does this mean for your campus? The fundraising demands on alumni and donors is already widespread. Alumni, when they can donate, have been grappling with how to distribute their gifts for decades. Do I support the campus as a whole, my home academic college or department, or my favorite sports team?
For athletics boosters, the presence of trusts makes the decision more difficult because the trusts aspire to get funds directly in the hands of the athletes.
At the University of Oregon, Nike founder (and Oregon grad) Phil Knight teamed up with other prominent alumni to establish Division Street in September 2021, which has since grown to include Adopt (a creative agency owned by former Nike and Jordan executives), an Oregon business incubator, and an NFT marketplace. Five-star women's basketball recruit Grace VanSlooten discussed how the collective and the campus's connection to Nike was a major factor in her commitment.
One of the University of Texas's collectives, Horns With Heart, is dedicated solely to charitable causes.
Student Athlete Empowerment is an example of a collective that's not specific to an individual campus. It's a full-service agency of record working with universities like Florida, Fordham, Loyola Marymount, and Robert Morris.
All of these opportunities to contribute mean more demands and uncertainty of where to invest—not to mention what activities will continue to be permitted.
As of May 9, 2022, the NCAA issued new guidance about NIL and recruitment clarifying the prohibitions on booster involvement in recruitment, including "providing benefits to recruits, enrolled student-athletes, or their family members." The announcement noted this definition could extend to collectives as well, but the language is still vague. This reflects a constantly changing environment—one campus pros need to continue to monitor to inform your planning and strategies.
Questions to Consider
What are the shifting demands on your campus's donors? Who do they aspire to support and why? How do your development communication strategies need to change accordingly?
What questions do your campus's alumni and donors have now that they may not have been asking a year ago? What information do they need to inform their giving decisions?
What is a sustainable long-term giving strategy for your campus?