Explore how NIL and athletics impact your brand conversation—positively and negatively.
Content Warning: In this blog, we discuss and link to content that may be difficult to read. This includes content on rape and sexual assault.
by Katlin Swisher, Campus Sonar Senior Strategist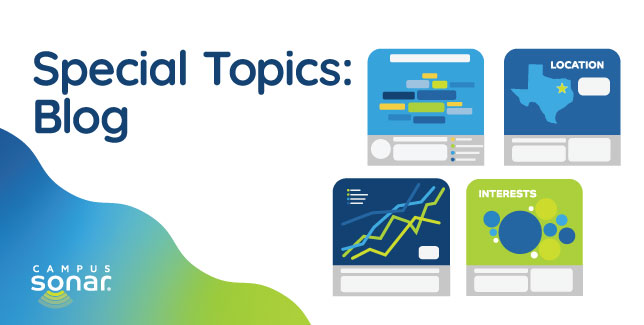 As one of the most accessible and exciting parts of the college experience, athletics has always been a driver of institutional brands. Whether we like it or not, it's a difference maker in how all our audiences perceive and interact with our campuses.
The NCAA's new Name, Image, Likeness (NIL) rule, which allows college athletes to profit from the personal brands that come with the notoriety of participating in college athletics, has added a new dimension to defining a campus's brand—individuals' associations with other brands. For now, though, the NCAA's current NIL policy does not contain guidelines about collaborations and partnerships.
So, what's the playbook? Are there limitations on who athletes can partner with that relate back to campus brands and missions?
The short answer is: it's complicated. Those details and specific policies are up to individual campuses and, in some cases, the states where those campuses are located.
For example, the University of Oklahoma has an extensive list of prohibited industries for NIL, ranging from drugs, alcohol, bars, and nightclubs to assault weapons and sports betting. Some religious institutions, like Brigham Young University, require athletes' endorsements to align with its honor code. Meanwhile, the state of Colorado's NIL legislation is much more open with no category-specific limitations. Companies like MaximBet quickly got involved there, offering all female college athletes over the age of 21 in the state contracts.
NIL and Negative PR
The range of industries offering contracts means there's more endorsement opportunities for campus pros to monitor for negative public relations ramifications.
Through Barstool Athletes Inc., the controversial sports pop culture website, Barstool Sports, has signed thousands of athletes across a wide range of sports to NIL deals, most of which consist of Barstool-branded gear as compensation. From sexual misconduct allegations (Business Insider registration required) and normalizing rape culture to hosting blackout parties promoting underage drinking, Barstool is affiliated with numerous problematic activities. The campuses prohibiting NIL affiliation, though, seem to be doing so mostly due to the company's recent gambling ventures.
Just weeks after the NIL ruling was announced, Miami-based adult entertainment and webcam company CamSoda announced endorsement opportunities for athletes. Turning Point USA, a far-right campus activist organization known for influencing student government elections, began offering endorsements one day after the ruling passed.
What would deals like these with your student-athletes mean for your campus's brand?
NIL and Positive PR
It's not all bad, though. There are also plenty of stories of athletes who are using their NIL to make a difference in their respective communities and sports.
Michigan running back Blake Corum, one of the most active NIL athletes this year, has made numerous charitable contributions with his profits. He donated 100 turkeys to families at Thanksgiving and partnered with Detroit PAL to provide Christmas gifts to the Little Hoopers team. During the holidays, he spent an evening with local K-12 students, reading books, running basketball drills, sharing advice, and enjoying pizza—his treat. During his Valentine's Day deal with Bon Bon Bon, he donated 15% of all sales to The Uniform Funding Foundation, a nonprofit that provides team uniforms for youth athletes.
Similarly, Pitt quarterback Kenny Pickett used several NIL partnerships to support a local Boys and Girls Club, an organization that made a difference for him throughout childhood.
After partnering with a volleyball apparel company, Nebraska's Lexi Sun (with 75,000+ Twitter followers!) announced she wouldn't keep the proceeds all to herself—she is donating a portion to a sports psychology nonprofit in recognition of the mental health and wellness support she's received as a student-athlete.
Following the success of a GoFundMe campaign for a friend navigating some challenging times, Florida State offensive lineman Dillan Gibbons established a nonprofit to help fellow athletes pay their NIL deals forward.
NIL has also completely changed the game for women's gymnastics. Olympic gymnasts, including 2021 All-Around Gold Medalist Suni Lee, participated in NCAA gymnastics following success in elite competition for the first time in the sport's history. These athletes aspired to be a part of the college experience without giving up endorsements, and NIL offered them that chance this year. The presence of gymnasts like Lee and other Olympians such as Jade Carey, Jordan Chiles, and Grace McCallum have elevated the sport's visibility, leading to numerous sell-out crowds and the most-watched gymnastics meet in ESPN network history.
These examples are the types of stories your campus can lift up in your own content strategies. When athletics dominates the conversation (which is more often than not in higher ed), this is a chance to leverage strong athletics volume to highlight other brand attributes. Themes like those seen in these positive examples can support campus and brand goals, giving you the capacity to celebrate the broader meaning of an athlete's experience through intentional content creation. You can develop focused content about the intersection of athletics and co-curricular outcomes to harness the enthusiasm of your student athletes and elevate your brand.
The playbook has changed, and we have to change with it. Continue exploring how athletics affects your campus's brand conversation on Campus Sonar's Brain Waves Blog.