Connection and visibility are two reasons athletics play a massive role in your total online conversation.
by Steve App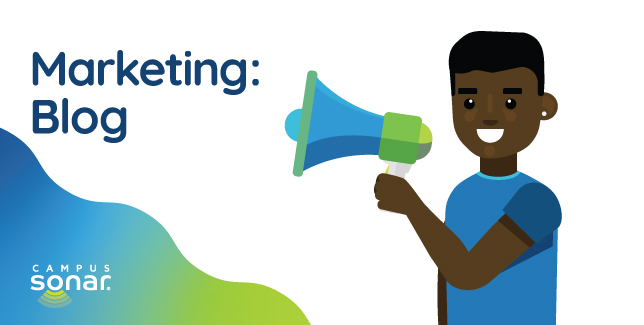 On the evening of April 5, 2010, at Lucas Oil Stadium in Indianapolis, Indiana, the Duke University Blue Devils won the men's basketball NCAA Tournament Championship Game 61–59. That the Blue Devils were victorious was hardly a surprise. They were the #1 seed in their region, and the championship was the fourth in their program's rich history.
Indeed, much of the conversation surrounding the game didn't center around Duke. Rather, it was about its opponent, the Butler University Bulldogs. Butler had gone on an improbable title run as the #5 seed in their region, knocking off national powerhouse Syracuse in the Sweet Sixteen and coming within a half-court buzzer beater of upsetting Duke.
The following year, Butler did it again, becoming the first #8 seed to reach the National Title Game, this time falling to the Huskies from the University of Connecticut.
While they may not have won any titles, Butler's two tournament runs put them on the national stage. Butler University received 3,168 applications in 2001. By 2012, that number increased to 9,683, according to the Washington Post. But it wasn't just prospective college students who discovered an affection for the small, private university. "Since back-to-back Final Fours in Men's Basketball in 2010 and 2011, our endowment has grown by $100M," says Graham Honaker, Executive Director of Principal Gifts at Butler University. Honaker adds that in the time since 2011, Butler also experienced three of the university's biggest fundraising years on record and added more than 1,200,000 square feet in new facility space. "We have coaches and our Athletic Director engage with our alumni and donors throughout the year," says Honaker, who adds that these individuals, as well as the face of Butler's live bulldog mascot, Butler Blue, are matched only by the President of the University in terms of visibility.
Impact of Athletics
Not every campus athletics program competes on the national stage like Butler. There are 351 Division I schools in the United States; another 751 compete in Divisions II and III, which earn a fraction of the national exposure. Another 250 schools compete within the National Association of Intercollegiate Athletics (NAIA), a conference with a level of play considered on par with Division III.
And yet, at every level, athletics plays a significant role in a campus's brand and online conversation. In our latest report, Social Listening Benchmarks for Higher Education: January 2021, we found when comparing the median volumes of conversation, adding athletics increases online conversation by nearly three times. But that statistic tells only part of the story.
Of the 56 campuses with an athletics program in our sample of 93 colleges and universities, more than half—59% on average—of conversation related to athletics. And that percentage isn't limited to institutions of a certain type or size. Indeed, athletics drives more than half of online conversation for institutions of every size.
At very small institutions, 67% of conversation was related to athletics on average.
At small institutions, 60.9% of conversation was related to athletics on average.
At medium institutions, 52.8% of conversation was related to athletics on average.
At large institutions, 54.8% of conversation was related to athletics on average.
The same holds true for campuses at every level of athletics competition. From D1 programs to those operating in non-NCAA athletic divisions, a majority of an institution's online conversation relates to athletics.
At the Division I level, 64% of conversation was related to athletics on average.
At the Division II level, 65% of conversation was related to athletics on average.
At the Division III level, 52% of athletic conversation was related to athletics on average.
At all other levels, including NAIA, independent schools, NJCAA, and others, 57% of conversation was related to athletics on average.
The data is clear—whether you're personally a fan or not, sports are immensely popular and play a massive role in your total online conversation. But the question remains: why, exactly? The answer can generally be explained by two factors: connection and visibility.
"College sports offers a deep level of connection that is almost unattainable for professional or other amateur sports," says Travis McGuire, Director of Social Media at Division III Linfield University. "For alumni, it's a tie to a place where they spent their formative years. For students and employees, it's seeing their classmates or those they teach and work with in action."
That sense of personal connection is unique to college athletics, says Jon McBride, Associate Athletic Director for Communications and Media Strategy at Division I BYU. "The affinity that's developed by spending four years, in an extremely formative time of life, living and breathing in a unique institutional culture that has a robust athletic program tied to it at the hip, creates something incredibly special."
That's especially true at the lower levels of athletic competition, where students are more likely to have personal connections with student-athletes. "Athletics drives enrollment," says Chad Copeland, Assistant Athletic Director for Communication at Division III Northern Vermont University-Johnson. For Division III institutions, it's not uncommon for student-athletes to make up 30% or more of the total student population. At Linfield University, McGuire reports that student-athletes make up more than 40% of their student population.
But it's not just about personal connection. College athletics offers campuses a sense of visibility that feels unattainable for faculty members, senior administrators, and even the college president. "Outside of our president," says McGuire, "few people … know the names of people who work at Linfield unless they're athletes and coaches."
Visibility offers benefits extending well beyond the court or field, says Honaker, thanks to something called the halo effect. For colleges and universities, he says, reputation is a product of the people who make up their community. That includes prospective students, researchers, donors, lawmakers, alumni, employees, etc. This collection of individuals becomes a barometer of prestige, which more often than not, is the first point of attraction to an institution.
There are many ways to build prestige, but J. Douglas Toma, author of Football U.: Spectator Sports in the Life of the American University, believes high-profile athletic success offers institutions an inside track. In his upcoming book, The Cinderella Strategy: The Game Plan Behind Butler University's Rise to Prominence, Honaker writes of the halo effect:
The basic blueprint is fairly straightforward: investment in a major spectator sport can yield high-profile wins that garner national attention; with the right touch, institutions can parlay this widespread interest into name recognition, image enhancement, and increased resources, whether tangible ones like funding or intangible ones like institutional pride and identification.
These fruits, in turn, can feed growth across the entire institution, setting off a cycle of prestige and resource generation that might lift the university into ever-more prestigious company. In this way, a successful, big-time athletic program can become "an instrument of total institutional enhancement."
But when athletic performance suffers, the ripple effect can be equally strong. "When the teams are successful, then the conversation goes well," says Tonya Oaks Smith, Executive Director of University Communications and Marketing at Division I Louisiana Tech University. "However, if you have a team that is less so, the conversation can become negative."
"It's definitely a double-edged sword," says McBride. "When the fan base is sad or mad or disappointed, that's going to bleed into all sorts of other content and reaction." McBride imagines that every social media manager can remember a time when a positive post about a campus was met with angry comments about a recent, but entirely unrelated, athletic defeat.
But even for institutions who see an increase in positive conversation from athletics, that increase in conversation volume can present challenges. "When people think about UConn they usually think about our Women's Basketball program," says Emily Zangari, Director of Digital Content & Strategy at Division I University of Connecticut. "It can sometimes be hard to break through that conversation to make sure people are seeing UConn as a top-tier research university and see that we have more to offer on the academic side."
Feelings of brand confusion can feel especially frustrating when you consider that the introduction of athletics conversation causes a sizable increase in owned conversation. That means an increase in conversations from accounts that represent your brand; think the women's soccer team on Instagram, or the men's basketball team on Twitter. Those accounts can quickly dilute the brand pillars and institutional messaging you're trying to communicate otherwise. And while the impact of athletics conversation on owned and earned conversation is largely consistent, save for Division II campuses, the problem is most felt at the lower levels of athletic competition, where a large number of athletic social accounts can quickly drown out marketing messages being sent by a team of one.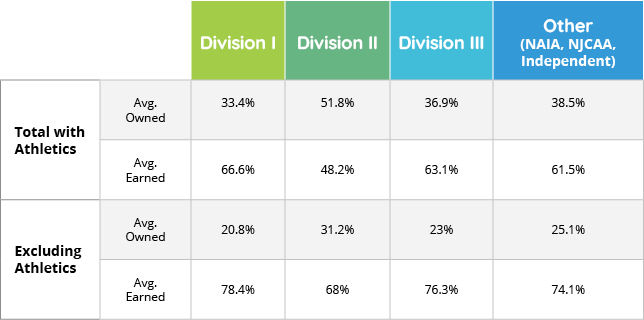 Teaming Up with Athletics
The mission for marketing and communication teams, then, is finding a way to partner with athletics to amplify athletic and institutional messaging. The good news is whether your institution competes on the national stage or in front of a few dozen fans (pandemic notwithstanding), there are field-tested strategies for creating a better partnership with the athletic side of the house and leveraging the power of athletics to enhance your brand and reputation.
Communicate, Communicate, Communicate
Whether you're completely siloed from athletics or trying to build a better bridge, everything starts with communication. "Communication might seem like an obvious answer, and that's because it is," says UConn's Zangari. "The more the two offices talk, implement, and engage, the more awareness there is surrounding marketing and communication efforts which leads to less confusion and a more strategic and holistic approach to marketing communications." At UConn, Zangari started by focusing her efforts on a single social media manager. As their relationship evolved, she says, they were able to extend collaboration opportunities beyond social content.
One way to accelerate that process is by finding areas of common ground, says Michael Kaltenmark, Director of External Affairs at Division I Butler University. At Butler, Kaltenmark notes that the university brand was developed on a phrase and related subset of values known as The Butler Way, which originated with the men's basketball program and later adopted by the Department of Athletics. By incorporating the framework into the larger university, Kaltenmark says, "both athletics and central marketing have common ground when it comes to brand alignment and messaging."
If you're starting a relationship from scratch here, keep in mind that athletics runs at a fast pace, and their working hours may not be the same as yours. Copeland notes that at Northern Vermont University-Johnson, the athletics department shares content at a blistering pace during active seasons. "Having the ability to share that content and support athletics during weekly awards, recaps on athletic events, and promoting events is incredibly beneficial," he says.
For McGuire, it's not just supporting athletics that's important; it's being able to respond quickly to their needs. That may require checking in when you're not normally on the clock, or having someone on your staff available for support during those times. "They work nearly every weekend from late August to the end of May, and many of those weekends include nights," he notes. "If one of my colleagues in sports information sends me a text or direct message at an odd hour, it's because that's when they're working."
Work Proactively
There's a difference between a relationship that's good when it needs to be and a true partnership. If your communication with athletics is infrequent in nature, take a look at the events that drive collaboration. Chances are, says BYU's McBride, they're reactive in nature and related to reputational threats or crisis communications.
The real value, he says, is when you can get ahead of the conversation. At BYU, McBride says that when conversations about racial injustice were most prevalent, the central and athletics communications teams came together to share a message about unity. "The audience reaction was so positive," says McBride, "we started selling [merchandise] at the BYU Bookstore and came up with a model that would allow all of the proceeds from the sales to go directly to scholarships through the BYU Multicultural Student Services Office."
Start with a Measurable Goal
You don't have to work in sports to know that winning feels good. If you're in the early stages of building a better relationship, focus your efforts on a single or small set of priorities and define your goal. At Louisiana Tech, says Oaks Smith, collaboration is focused on licensing promotion. "That content is focused on increasing ticket or merchandise sales. Success is an increase in either of those things," she says.
At Butler, says Kaltenmark, the focus is on increasing season ticket sales and live mascot program activities, among other collaboration points. By explicitly identifying your collaboration points, outcomes become shared.
At Division III Linfield University, marketing and athletics were able to team up to increase game attendance. Like many universities, notes McGuire, Linfield's most well-attended sport is football, but he says the athletic department knew there was room for growth.
McGuire says that the athletic department closed down the street that runs behind the main grandstand prior to kickoff, and brought in food trucks, games like bean bag toss and axe-throwing, and a beer garden. They also invited the marching band, as well as the cheer and dance teams, to perform.
"Athletics turned to our team to shoot photos and video of the new game day atmosphere for social media content and digital and social media ads," says McGuire. The marketing team used that content to target adults with families in their county who were interested in football. "It's easy to bring children to our games, because there's room for them to run around on the track, play catch, and have fun while not being confined to their seats," he notes. Marketing ran the ads on multiple platforms prior to each home football game. The result: average attendance increased 27.4% from the previous season. "That is a major win for the university and our athletic department in terms of how we were connecting to the people of McMinnville," says McGuire.
Bringing Athletic Voices Off the Field
Finally, there is perhaps no better way to incorporate athletics into your central marketing strategy than by using athletics' visibility to amplify core messaging and brand pillars.
"Using influential voices in athletics for non-athletic purposes not only helps bridge that gap between academics and sports, but it helps bring validation and a heightened awareness to a cause/campaign/issue," says Zangari. At UConn, Zangari says they asked women's basketball coach Geno Auriemma to deliver a commencement address at this year's event. Zangari adds that normally, the university wouldn't ask their most famous staff member to be a guest speaker at commencement. "However, this was an anomaly. We, like many universities, had to hold a virtual commencement and were looking for ways to make it extra special for our students," she says, adding that the speech was collaboratively written and was one of their more popular commencement speeches in recent history.
Your coaches don't need to be household names to tap into their expertise, however. "Coaches are constantly selling the institution and their athletic program to bring students to campus," says Copeland. The year-round nature of college recruiting means that coaches often have a greater depth of knowledge on what messages resonate with prospects that their colleagues realize. If you can incorporate them into your overall content strategy, rather than leaving them isolated on the athletics website and athletics-focused accounts, you can greatly increase your chance at reaching prospects and admits with key brand messages.
But more than coaches, it's the student-athlete that offers influence. At Louisiana Tech, Oaks Smith says her team realized the power student-athletes had to demonstrate positive public health standards. "These students and staff are influencers for many "regular" students' behavior, so we asked them to model good health and safety measures every time they are in front of a camera," she says.
McBride notes that leveraging student-athletes is only going to become more important moving forward. As Name, Image and Likeness (NIL) legislation is passed, he says, student-athletes are going to become more interested in building their personal brand.
"These members of our campus communities hold an immense amount of digital influence. They can reach a quantity and quality of audience member that is difficult to replicate. Partnering authentically, and not just making commercials with them, can add a great deal of value to the overall university brand."