May 2022
Athletics is one of the most celebrated traditions in higher ed, uniting students, alumni, and fans with campus pride.
On most college campuses, though, athletics is its own entity, separate from the academic side of the organizational chart. But we've known for a while that academics and athletics are never fully separate. And the arrival of Name, Image, Likeness (NIL) changed not only college athletics but the higher ed industry, and we need to change with it.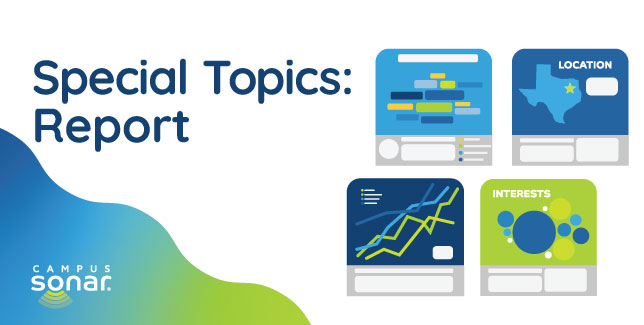 What This Report Gives You
The Athletics Matters: Name, Image, Likeness: May 2022 report gives you insight into the steps needed to further support athletes and their fans (your primary audiences!) and rebuild their affinity for your campus during the uncertainty of NIL. The report examines six months of conversations to understand:
Conversation behavior including volume over time, content sources, and mention types. Use the data to understand the evolution of the student athlete, how NIL is changing roles, what student athletes need to advocate for themselves, and more.
Sentiment overall, over time, and content source. Use the trends to focus your content strategy, build engagement, and understand NIL's impact on your campus.
Conversation trends over time, segmented into three distinct periods. Gain insight into the prominent topics over the six month analysis and how your campus needs to adapt.
Highlights from specific NIL topics: NIL beyond football and basketball, Division 1 sports conversation, and NIL and women's sports.